Ducati
India launched the MY22 Panigale V4 range at a starting price of Rs 26.49 lakh. The Italian motorcycle maker's flagship sports motorcycle gets two more variants – Panigale V4 S which will retail at Rs 31.99 lakh, and the range-topping Panigale V4 SP2 at Rs 40.99 lakh (all prices are ex-showroom India). The 2022 Panigale V4 has been refreshed for styling with a new graphic designed by the Ducati Centro Stile that includes black logos applied to the full red fairings, double fabric saddle (two-tone on the S version), and a red tag on the black rims.
The V4 is powered by a 1,103cc Desmosedici Stradale, which has also undergone a series of updates. The new engine is combined with a new exhaust can and a new oil pump. The engine sees a power increase of 1.5 hp achieving 215.5 hp at 13,000 rpm and 123.6 Nm at 9,500 rpm (100 Nm at 6,000 rpm).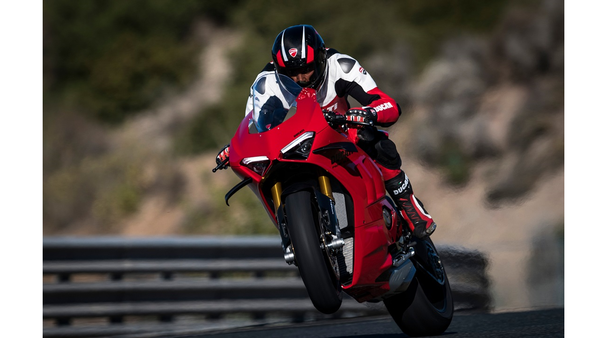 A key change in the engine is the adoption of a new gearbox that includes tweaked ratios for the first, second, and sixth gears. The first gear has been lengthened by 11.6%, while the second by 5.6%. Ducati state that the smaller revs difference between the first two ratios allows the new calibrated DQS to work more effectively. Lastly, the sixth gear has been lengthened by 1.8% allowing, in combination with the increase in engine power, a top speed that is higher than the Panigale V4 2021 by 5 km/h.
A new Power Mode has been introduced on the Panigale V4 2022 which provides for four engine configurations: Full, High, Medium, and Low. Full is the sportiest ever adopted by a Panigale V4 and allows the engine to express its full potential with torque curves without electronic filters, except for first gear.
The Power Mode Low, on the other hand, has been for road riding, limiting the maximum power of the bike to 150 hp. It gets four ride modes – Race A, Race B, Sport, and Street. The bike gets a new Akrapovič exhaust, made entirely from Titanium, is equipped with high silencers alongside the tail and ensures a power increase of 12.5 hp, bringing the maximum value to 228 hp, while the maximum torque value rises to 131 Nm, with an overall weight reduction of 5 kg.
The Electronic Package consists of:
› ABS Cornering EVO
› Ducati Traction Control (DTC) EVO 3
› Ducati Slide Control (DSC)
› Ducati Wheelie Control (DWC) EVO
› Ducati Power Launch (DPL)
› Ducati Quick Shift up/down (DQS) EVO 2
› Engine Brake Control (EBC) EVO
› Ducati Electronic Suspension (DES) EVO – Panigale V4 S