fighters celebrated joyously as the last American troops were boarding their flights back home.
"The last American soldier left Kabul airport at 9pm Afghan time and our country gained full independence, Alhamdulillah Walmana," Taliban spokesperson Zabihullah Mujahid tweeted in the early hours of August 31, 2021.
marked an official end to America's two-decade-long bloody war in Afghanistan.
But the war within the country never stopped. In fact, it only got worse.
In the year since America's pullout, the Taliban have tightened their grip on power in Afghanistan and now control every sphere of life, directly or indirectly.
As a result, the lives of Afghans have deteriorated significantly.
The Taliban-ruled Afghanistan government has imposed various restrictions on women, media and other aspects of life.
Compared to their first reign, the Taliban did adopt some positive changes.
Afghans now have access to televisions, can watch cricket matches at stadiums and women journalists are allowed to interview government officials — something that was unthinkable during Taliban's first reign.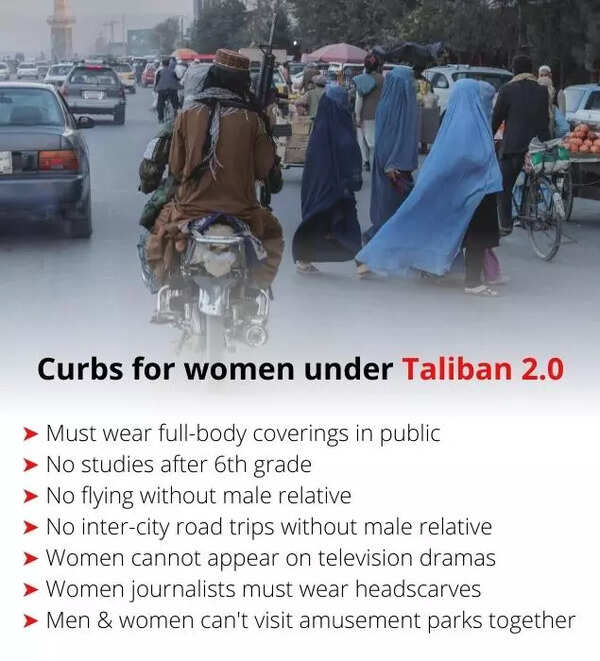 However, most of these changes are superficial.
Their trigger-happy foot soldiers roam freely in public, imposing their reign of terror and thrashing — sometimes even killing — people on mere suspicion or no reason at all.
There have been several reports of Taliban gunmen beating women protesters, hounding journalists and killing members of ethnic tribes.
A recent report in Guardian said that Taliban once beat girls "just for smiling and talking too loud."
Moreover, poverty in the country — felt most keenly in Afghanistan's south — has been driven to desperate new levels, exacerbated by drought and inflation since Russia's invasion of Ukraine.
While the plight began during the previous governments, the Taliban takeover pushed the country — home to 38 million people — over the precipice.
According to reports, some families in the crisis-hit country are being forced to choose between selling their organs or their infant daughters.
The condition is so miserable that United Nations described the humanitarian crisis in Afghanistan as the "world's worst".
Moreover, some cracks have also opened within Taliban's ranks over the crucial question of just how much reform their leaders can tolerate.
The group's hardline core, composed of battle-hardened veteran fighters, is against any significant ideological change that could be viewed as a sign of capitulation to their enemies in the West.
Members of this group remain intent on implementing the Taliban's mid-1990s credo, word for word. They include the Taliban's secretive leader, Haibatullah Akhunzada, and his inner circle.
However, leaders such as deputy PM Mullah Abdul Ghani Baradar and younger ones including Siraj Haqqani, the acting interior minister, have begun to challenge this approach, albeit privately.
"It is understood that they tend to be more focused on 'God and country' than on just 'God'," writes Saad Mohseni, CEO of Moby Group, in Foreign Affairs.
Amid the brewing discontent among pragmatists and ideologues within the Taliban, external threats continue to pose challenges to the country's stability.
UN and other sources have provided extensive evidence that foreign terrorist organizations, especially ISIS-K , remain highly active in Afghanistan.
The regional affiliate of ISIS has in fact stepped up attacks on mosques and minorities (Shia) across the country since the Taliban seized power.
Separately, the armed political opposition to the Taliban remains persistent but sporadic, concentrated mostly in the northern region.
While the Taliban are in a dominant position vis-a-vis National Resistance Front of Afghanistan (NRFA), the spirited resistance led by Ahmad Massoud, the son of anti-Taliban commander Ahmad Shah Massoud, continues to pose a threat in the northern region.
3 –
Bleak future for women, and some defiance

4 –
A year on, no recognition still

5 –
Terror on Afghan soil

6 –
Plunging Pakistan ties

7 –
Closer ties with India?

While Pakistan is losing its grip on Taliban leadership amid friction in ties, India is slowly, but surely, gaining a foothold in Afghanistan.
In the last few months, India supplied several consignments of humanitarian aid to Afghanistan.
Recently, the Indian embassy in Kabul resumed operations after suspending its office since the Taliban's takeover of Afghanistan in August 2021.
The Taliban said India's diplomatic presence in Afghanistan would result in the completion of "unfinished projects" that India had initiated and the commencement of new ones.
Trade between the countries has also flourished of late.
Earlier in August, China's special envoy for Afghanistan, Yue Xiaoyong, visited India and held discussions with officials on the security situation and humanitarian aid in Afghanistan.
This was the first such trip by a Chinese special envoy on Afghanistan as Beijing recognised India as an important stakeholder in the war-hit country.
India has not dithered from its position that it wants an inclusive government in Afghanistan that ensures that Afghanistan soil is not used as a safe haven for terrorists. Pretty much in line with what US seeks to achieve in the country.
With a cautious return to Kabul, New Delhi can maintain its ear to the ground and retain its role as a key stakeholder in Afghanistan. More importantly, it will help India keep a check on Pakistan-based terror groups using Afghan soil to pose a threat to India.
In the early days following the Taliban takeover, China was one of the first countries to reach out to Afghanistan's hardline rulers.
As US moved its troops out of Afghanistan, China saw a big opportunity in mineral-rich Afghanistan. The outreach was mutual since Taliban also wanted China's support to get recognition on the global stage.
However, with Taliban failing to find any legitimacy, including from China, the plan went into cold storage.
A year on, China has only managed to offer economic support to Afghanistan without the coveted gift of diplomatic recognition.
Amid large-scale security and logistical challenges, China is finding it difficult to keep its economic interests alive in the war-torn country. Two of its existing projects in Afghanistan are also in limbo due to the unstable situation in the country.
China has also been lobbying for Taliban authority at international forums and betting on Afghanistan getting official recognition from countries. Without it, China won't be able to do business in the country.
Michael Kugelman, the deputy director of the Asia Program, told Voice of America, that the "cordiality" between China and the Taliban should not be viewed as a prelude to recognition.
"China is still a long way off from that, and it's unlikely to take that step unless several other countries do first, or at the same time," he said.
He said that Beijing will be comfortable in engaging with the Taliban if China concludes it is safe on the ground.
Without political stability and recognition, China's interests in Afghanistan will remain largely diplomatic, not economic.
9 –
Russia's ties with Taliban 2.0

Russia, more than any other country, has had a long and bloody history with Taliban.
As USSR, the Russians fought Taliban for several years before they were defeated and thrown out of the country — with the help of Pakistan and US — in 1992.
But a lot has changed since the early 1990s. After the Taliban came back to power last year, Russia sought to approach its ties with Afghanistan differently, one in which they would emerge as "winners" unlike last time.
Years after the dust settled on the Soviet-Afghan war, Moscow made a comeback as an influential power broker in international talks on Afghanistan.
It worked continuously to cultivate ties with the Taliban, hosting their representatives for a series of bilateral and multilateral meetings.
In fact, when Taliban were taking over, Russia said it wouldn't evacuate its embassy in Kabul, and its ambassador quickly met with the Taliban for what he described as "constructive" talks after they captured Kabul.
Not surprisingly, Russia was seeking to emerge as a key partner in Afghanistan to ensure that Taliban wouldn't threaten the interests of Moscow and ex-Soviet allies in Central Asia.
However, things have changed quite a bit since Russia's invasion of Ukraine.
With Kremlin now invested heavily in its 6-month-long war with Kyiv, Russia's interests in Afghanistan took a backseat.
Afghanistan, too, has remained cold on diplomatic ties with Russia. Earlier this year, its representatives in the UN voted for a resolution denouncing Russia's war against Ukraine. Though Afghanistan was represented by the ambassador of the previously elected democratic government, not Taliban.
Nevertheless, with Russia's occupation of eastern Ukraine, Taliban would be careful not to seek support from an international pariah like Russia.
"The Taliban would have serious reservations about cozying up to Russia, even in a time of need, when the Russian assault on Ukraine is looking more and more like the Soviet Union's devastating occupation of Afghanistan," said Scott Worden, director of Afghanistan and Central Asia Programs, in an article on US Institute of Peace (USIP).
10 –
Keeping ear to the ground

America may have pulled its troops out of Afghanistan but is seeking to keep its ear to the ground and maintain its presence in the conflict-ridden Middle East and Central Asian regions.
The US is seeking key alliances to remain a vital player in the region while not getting its own military entangled.
Recently, the I2U2 group of countries, 'I2' standing for India and Israel and 'U2' representing US and UAE, held their first summit level virtual meet in July.
The alliance, which is dubbed the "West Asia Quad", is aimed at promoting joint investments in six mutually determined areas such as water, energy, transport, space, health and food security. Though unlike Quad, which comprises US, India, Australia and Japan, I2U2 does not include cooperation in the areas of defence and security.
However, analysts consider the alliance as part of US efforts to counter China in West and South Asia.