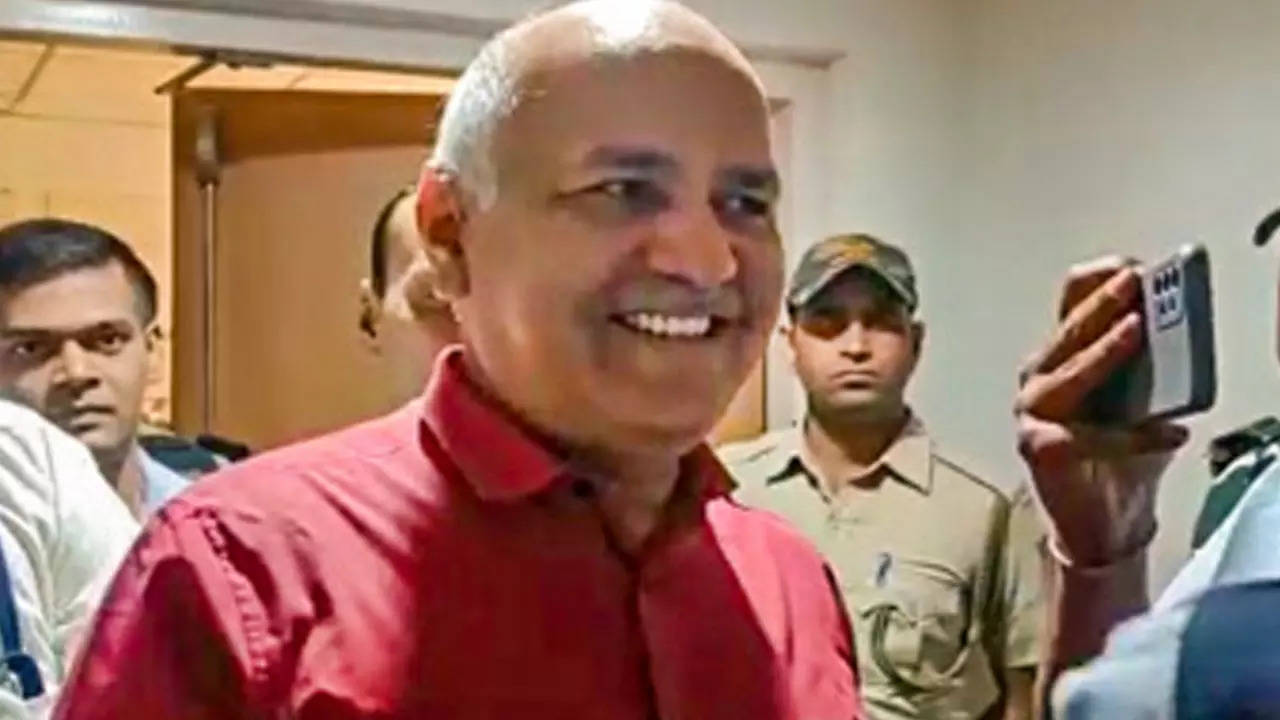 NEW DELHI: The Enforcement Directorate (ED) on Tuesday questioned and recorded the statement of former Delhi deputy chief minister Manish Sisodia in connection with the Delhi excise policy scam case.
The federal probe agency also made a fresh arrest in this case as it took into custody
Hyderabad-based liquor businessman Arun Ramchandra Pillai
on Monday evening.
The ED investigators reached the Tihar jail to record the statement of Sisodia under the Prevention of Money Laundering Act (PMLA).
The CBI had arrested Sisodia on February 26 in connection with alleged corruption in the formulation and implementation of the now-scrapped Delhi liquor or excise policy for 2021-22.
He is lodged in judicial custody till March 20.
The ED obtained the court's permission to question the 51-year-old Aam Aadmi Party (AAP) leader, who till recently was the deputy CM of Delhi, in the cell number 1 of the jail for three days.
The agency is expected to question him about the alleged change and destruction of cellphones that were in his possession and the policy decisions and the timeline followed by him as the excise minister of Delhi. These charges were made by it in its supplementary complaints filed before the court.
The ED may invoke section 19 of the PMLA, that allows it to arrest people involved or accused in the case, if the investigation officer has "reasons to believe" that the person is "guilty" of the offence of money laundering.
The CBI, during its custody of Sisodia, had confronted him with his former secretary C Arvind and then Excise commissioner Arava Gopi Krishna in connection with alleged manipulation of the excise policy.
Sisodia was not mentioned as accused in the charge sheet of the CBI filed in the case on November 25 last year.
It is alleged that the Delhi government's excise policy for 2021-22 to grant licences to liquor traders allowed cartelisation and favoured certain dealers, who had allegedly paid bribes for it, a charge strongly refuted by the AAP. The policy was later scrapped and the Delhi LG recommended a CBI probe following which the ED booked a case against the same accused under the PMLA.
The ED has informed the court through its charge sheet that its probe found that at least 36 accused, including Sisodia "destroyed, used or changed" 170 phones to conceal evidence of "kickbacks" worth thousands of crores of rupees in the alleged scam.
It had also named Sisodia's boss and Delhi Chief Minister Arvind Kejriwal, in the second charge sheet filed in the case early this year, claiming that C Arvind, a DANICS officer who was earlier secretary to Sisodia, recorded his statement under the PMLA saying he was given the GoM report on the excise policy in the middle of March, 2021 when he was called by his boss (Sisodia) to the residence of Kejriwal.
In a linked development, Arun Pillai was taken into custody under the criminal sections of the PMLA on Monday evening following a long session of questioning.
Pillai is a partner in a company called Robin Distilleries LLP whom the ED had said represented the 'south group' alleged liquor cartel linked to Telangana CM K Chandrashekhar Rao's MLC daughter K Kavitha and others. He is also linked to arrested liquor businessman Sameer Mahandru, his wife Geetika Mahandru and their company Indospirit Group.
He will be produced before a local court where the ED will seek his further custody for interrogation, they said.
(With inputs from PTI)