In what is an adverse signal for this year's monsoon in India, US government weather agencies have, for the third month running, reiterated the possibility of El Nino conditions developing in late summer this year.
The March update of US agencies linked to the
National Oceanic and Atmospheric Administration
(
NOAA
) on conditions in the Pacific Ocean, released late Thursday, reiterates the model projections of the previous two months on the possibility of an El Nino forming around July-August this year. That the signal for El Nino has persisted in weather models for three months strengthens the forecast although experts, including IMD officials, have said that a clearer picture will emerge only by next month (in April), when spring conditions in the Pacific are taken into account.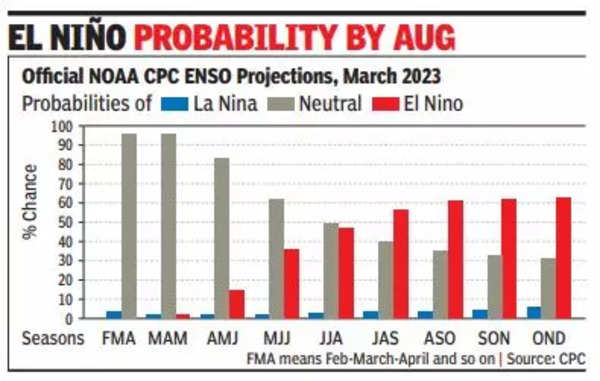 El Nino is an abnormal warming of surface ocean currents in the east and central equatorial Pacific that corresponds with changes in wind flows, affecting weather patterns across many regions of the globe. An El Nino generally leads to poor summer monsoon rains over India, although there have been exceptions to this in the past.
The latest bulletin said La Nina conditions had finally dissipated after persisting for three years. La Nina is the opposite of El Nino, corresponding to a cooling of waters in east and central Pacific. "La Nina has ended and ENSO-neutral conditions are expected to continue through the northern hemisphere spring and early summer 2023," it said.
The models project a rapid transition to El Nino later this year. However, while the February forecast had projected a higher probability of El Nino (than neutral conditions) by around July this year, the latest update shows an El Nino developing only by August.
Usually, an El Nino or La Nina event is followed by a year or two of neutral conditions. The last time a La Nina transitioned to an El Nino in the same calendar year was in 2009.While the possible appearance of an El Nino this year does not bode well for monsoon rains in the country, which have implications for the kharif crop output, there are several other factors that determine the quantum of rainfall during the June-September season, such as conditions in the Indian Ocean (Indian Ocean dipole or IOD), the Eurasian snow cover, intra-seasonal variations etc.
India has had good monsoon rainfall in the last four years, three of which were La Nina years. In recent years, poor monsoon rains in 2009, 2014, 2015 and 2018 have corresponded with El Nino years.