NEW DELHI: Using strong words to express its "serious concern" over the active role being played by governors in state
politics
, the Supreme Court on Wednesday said it is very disconcerting that they are becoming part of political processes to precipitate the fall of elected governments.
Referring to then
Maharashtra governor B S Koshiyari
's decision to ask then chief minister
Uddhav Thackeray to face a floor test on June 30 last year
, at a time when
Shiv Sena
was imploding with rebellion, a bench of Chief Justice D Y Chandrachud and Justices M R Shah, Krishna Murari, Hima Kohli and P S Narasimha said the revolt was an internamatter of Shiv Sena and there was no material to suggest that Sena as a political party had withdrawn support to the Maha Vikas Aghadi (MVA) government formed in coalition with Congress and NCP — an observation that was refuted by the solicitor general, who represented the former governor.
"The governor should have been conscious that by asking Thackeray to face a trust vote, it could precipitate toppling of the government. If the Sena MLAs were unhappy with their leader, they could have replaced the leader. But can the governor say because of dissension in the party, the CM must face a trust vote? We are not questioning the governor's power to ask the CM to face a trust vote. But the problem is the governor should not be part of a process to precipitate the fall of a government. And this is irrespective of the number game inside the House," the CJI said on behalf of the bench.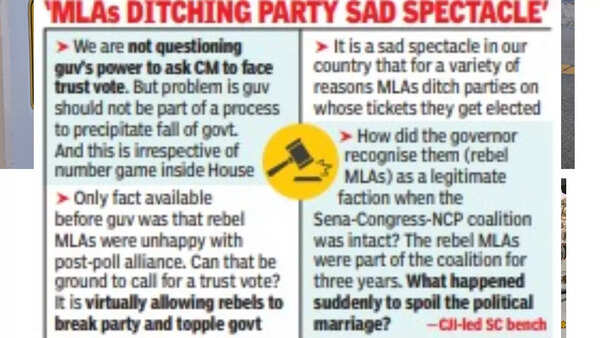 The bench said, "The only fact available before the governor was that the rebel MLAs were unhappy with the post-poll alliance with Congress and NCP. Can that be ground to call for a trust vote? It is virtually allowing the rebels to break the party and topple the government. It is obvious that Thackeray lost in the number game. But we are on the adequacy of the material to make the governor ask the CM to face a trust vote."
SG Tushar Mehta sought to counter the bench's observation that Koshiyari waded into the dissension when it would have had no implications for the stability of the MVA coalition. Mehta said that the 39 rebel MLAs' letter to the governor clearly stated that they did not want to be part of the MVA government and that they wanted to withdraw support. "Is this not material enough to create a doubt in the mind of the governor about the government possibly not enjoying majority-support in the House?"