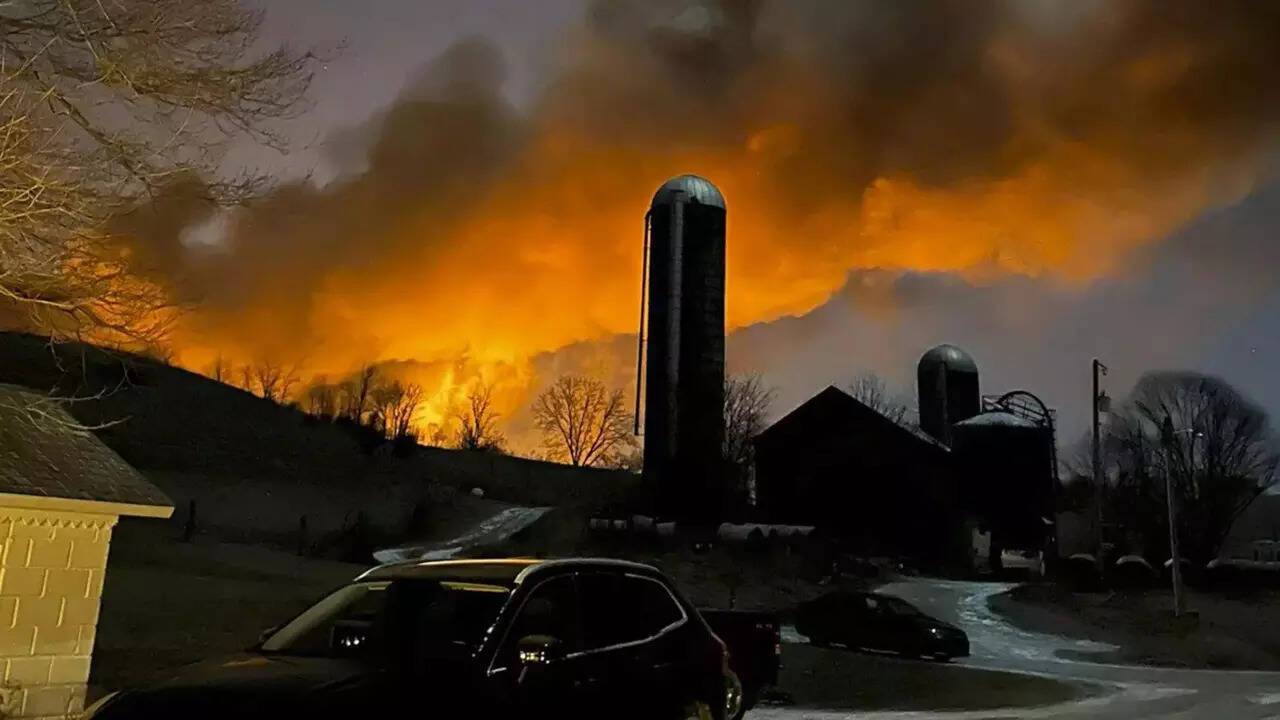 A train derailment caused a huge fire to erupt in eastern Ohio on Friday night, prompting officials to order many of the town's residents to evacuate as crews assessed whether the cargo contained toxic material, authorities said.
The risk of injury remained a concern Sunday because of the lingering threat of a potential explosion, officials said.
Roughly 50 cars derailed about 9 p.m. Friday in East Palestine, Ohio, which has 4,700 residents and is about 50 miles northwest of Pittsburgh.
On Saturday, local and federal officials and Norfolk Southern, the rail operator, were still investigating the cause of the derailment, which led to a
fire
that swept much of the town in smoke and cast a red glow over homes in the area overnight.
Gov. Mike DeWine of Ohio issued an urgent evacuation notice Sunday night to more than 500 people who had previously declined to leave their homes and were within a 1 mile radius of the derailment site.
"Within the last two hours, a drastic temperature change has taken place in a rail car, and there is now the potential of a catastrophic tanker failure which could cause an explosion with the potential of deadly shrapnel traveling up to a mile," DeWine said in a statement.
"Those with children in their homes who decline to evacuate may be subject to arrest," DeWine added.
There were no reports of injuries or deaths, Trent Conaway, the mayor of East Palestine, said at a news conference Saturday. But 1,500 to 2,000 residents had been asked to evacuate the area near the derailment, officials said.
Videos and photos of the fire showed smoke swelling up in the night as emergency vehicles rushed to the site. On Saturday morning, some train cars continued to burn, putting out gray puffs across East Palestine. Officials said there had been several explosions, including some Saturday morning.
It was not immediately clear how many train cars caught fire.
Keith A. Drabick, chief of the East Palestine Fire Department, said Saturday that officials had monitored the air quality and "so far, everything is good."
But, he added, authorities were still unsure whether the material burning was hazardous. He noted that the train, which had been traveling from Madison, Illinois, to Conway, Pennsylvania, was carrying some material that could be hazardous.
The National Transportation Safety Board was investigating the incident.