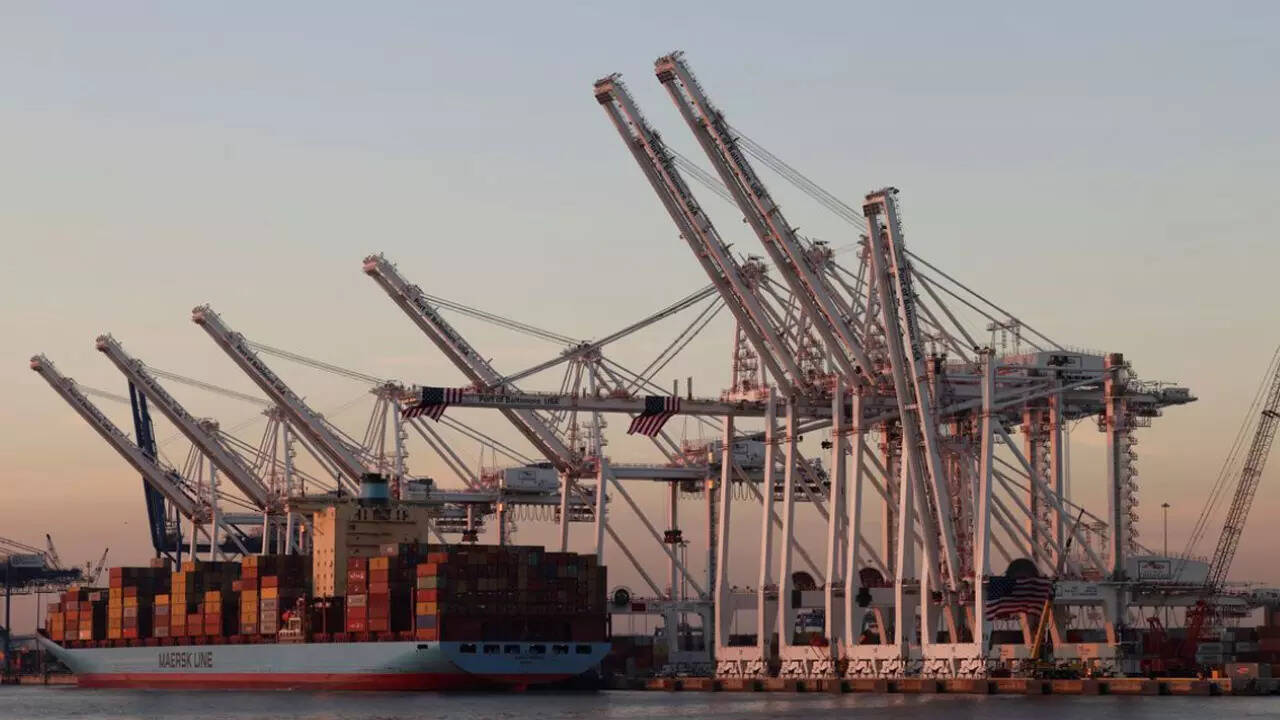 NEW DELHI: Ever since
US shot down a giant Chinese surveillance balloon
over its airspace last month, there has been heightened global scrutiny on the scale of
Beijing's spying operations
.
Now, American officials have raised concerns over the possibility of a "new tool" of spying hiding in plain sight: giant Chinese-made cranes operating at US ports.
According to a report in the Wall Street Journal (WSJ), Pentagon officials suspect that cranes made by Chinese manufacturer ZPMC operating at ports across America are being used to register sensitive information.
Trojan horse
Officials have compared these "ship-to-shore" cranes, which are well-built but inexpensive, to a "Trojan horse".
They said that these cranes contain sophisticated sensors which can register and track the provenance and destination of containers, enabling China to capture information about materiel being shipped in or out of US to support its military operations around the world, the report said.
In fact, Bill Evanina, a former top US counterintelligence official, told WSJ that these cranes could also provide remote access for someone looking to disrupt the flow of goods.
"Cranes can be the new Huawei," Evanina said, in a reference to Chinese telecom giant Huawei which has been banned by several countries over fears of espionage.
Spying fears
The WSJ report said that ZPMC cranes entered US market around two decades ago, offering good-quality equipment that are significantly cheaper than Western suppliers.
Over the years, it has grown into a major player in the global automated-ports industry.
"ZPMC executives were often celebrated around the US, where no comparable cranes are manufactured," the report said.
However, the recent international uproar over spy balloons has brought China's military surveillance capabilities back into the spotlight.
From baggage-screening systems to electrical transformers, US officials have been pointing to a range of Chinese equipment that could facilitate either surveillance or disruptions.
So far, US officials have not found any direct instances of Chinese cranes being used for espionage operations.
But the possibility is enough to raise alarm.
In an assessment conducted by the Defence Intelligence Agency in 2021, it was found that Beijing could potentially throttle port traffic or gather intelligence on military equipment being shipped.
Meanwhile, ports in Virginia, South Carolina and Maryland, which are at times used by nearby US military bases, have acquired new cranes from ZPMC in the last two years. This has prompted concern within the US national-security community and FBI, people familiar with the matter told WSJ.
According to the report, FBI agents searched a cargo ship delivering ZPMC cranes to the Baltimore port in 2021 and found intelligence-gathering equipment on board.
William Doyle, executive director of the Maryland Port Administration, told WSJ that the Baltimore port had purchased four cranes from ZPMC and hasn't found any issues while assembling and testing them.
He said that they are continually scanning the networks for security.
'Overly paranoid'
Meanwhile, the Chinese foreign ministry has dismissed the WSJ report as "overly paranoid", saying that it will mislead the American people.
A representative of the Chinese embassy in Washington called the concerns in US as a "paranoia-driven" attempt to obstruct trade and economic cooperation with China.
"Playing the 'China card' and floating the 'China threat' theory is irresponsible and will harm the interests of the US itself," China said.