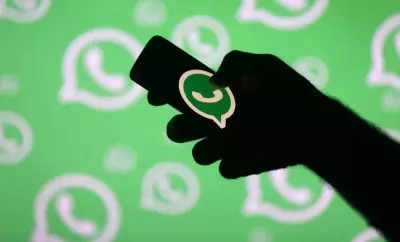 WhatsApp, the world's most popular messaging service, could be forced to stop offering its services in the UK if the country passes the current draft of an online safety law, its head said Thursday.
The Online Safety Bill before Parliament could effectively make the service's privacy features illegal, WhatsApp chief Will Cathcart told reporters on Thursday at the London offices of its parent, Meta Platforms Inc. The messenger won't change its encryption standards, he said.
"It's a global product; there isn't a way to change it in just one part of the world," Cathcart said. "We've recently been blocked in Iran, for example. We've never seen a liberal democracy do that."
The bill, introduced by former Prime Minister
Boris Johnson
, is an attempt to force internet companies to remove illegal content such as child sexual abuse or terrorism. However, critics including Meta have said scanning for such content would be incompatible with the end-to-end encryption that is a common protection offered by messenger apps.
Last month, Signal Foundation's President Meredith Whittaker told the BBC her messaging service would leave the UK if the Online Safety Bill forced it to weaken its privacy protections.
The bill doesn't explicitly describe a blocking mechanism, but calls for fines of as much as 10% of annual global revenue if companies don't comply. It also could lead to criminal charges against executives if they don't provide the regulator Ofcom details on how they run their services upon request.
"If you see a lot of gray area combined with a lot of rhetoric against encryption, the right thing to do is to worry," Cathcart said.
The Department for Science, Information and Technology said it is on track to pass the bill this parliamentary session, which runs until the second half of this year. It referred questions on encryption to the Home Office, which didn't immediately respond to a request for comment.
Cathcart, who is based in California, arrived in London to lobby against the bill amid a scandal involving leaked WhatsApp messages between the former health secretary and ministers, including Johnson.